The playoff picture came into focus on day five of the 2023 World Lacrosse Men's Championship, with 12 out of 14 spots clinched ahead of the final day of pool play.
Israel, Italy, Japan, Ireland and the United States all won to stay undefeated and win their pools. Israel defeated a previously undefeated Puerto Rico team, 12-6, while Japan finished its dominant four-game stretch in style with a 22-3 win.
The United States stamped its third consecutive men's championship with an undefeated pool play round after blowing by England, 18-1. 
Jamaica, Puerto Rico and Germany also sealed playoff spots, with Germany wining 16-4 against Switzerland.
Five teams remain alive for the final two playoff spots and are in action on Monday. Latvia and the Netherlands face each other in Pool F, while Wales and France battle in Pool B. The two winners will be in second place in their pools and in the playoffs, unless Hong Kong, China, defeats Mexico in Pool E and erases the goal difference deficit to catch one of the two winners. 
| | | |
| --- | --- | --- |
| Team | Goal Differential | Goals Allowed |
| France | 5 | 24 |
| Netherlands | 4 | 22 |
| Wales | 1 | 24 |
| Latvia | 3 | 18 |
| Hong Kong, China | -3 | 26 |
If there is a tie on goal differential, the next tiebreaker is goals allowed. 
A full recap of day five can be found below.
The Haudenosaunee were involved in another thriller at Torero Stadium, but fell just short in an 8-7 win for Canada that clinched the second overall seed in the playoffs. 
The Haudenosaunee tied the game early in the third quarter, but Canada ripped off a four-goal run in just over five minutes to take an 8-4 lead. The Canadians clung to the lead the rest of the way as the Haudenosaunee stormed back to within one but could not find enough time to tie the game. 
Canada improved to 3-1 and was powered on the night by Curtis Dickson, who contributed two goals and three assists.
Randy Staats had two goals and two assists for the Haudenosaunee.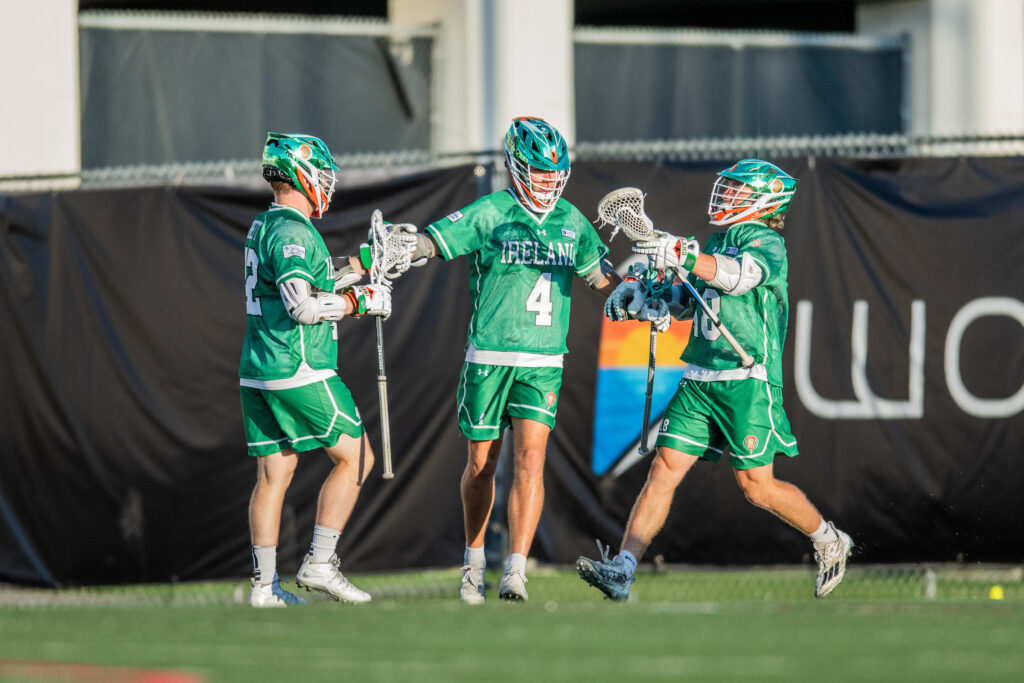 Ireland finished Pool F with a 4-0 record after turning on the afterburners in the second half to defeat Peru, 14-9.  
Ireland led 6-5 at halftime and looked to be locked into another close game, but scored the next five goals in the third quarter. Patrick Corbett, Conor Foley and Tadhg O'Riordan all had three or more points, with Corbett's five goals leading the way.
Andrew Ortega posted four goals and two assists for Peru. 
Latvia refocused to survive a challenge from Korea in a 7-4 win after trailing 4-2 at halftime in Pool F play to keep its playoff hopes alive. 
Latvia is 2-1 and faces the Netherlands, which is also 2-1, tomorrow with second place in the pool on the line.
Aleksandrs Eglitis was crucial to the win with three goals for Latvia and Ryan Richters was a hero yet again for Latvia, playing in the second half and making eight saves while allowing no goals. 
Ethan Ashley had two goals and an assist for Korea. 
The United States wrapped up its Pool A campaign at 4-0 with a definitive 18-1 win over England, sealing a spot as the first overall seed in the playoffs.  
The USA will play in the quarterfinals on Wednesday night at the University of San Diego's Torero Stadium at 7 p.m. PT on ESPNU.
Rob Pannell was the catalyst for the American offense on the night, amassing four goals and three assists. Kieran McArdle has his second game in row with five or more points and Brennan O'Neill added three points. Ten different players scored overall.
Trevor Baptiste and TD Ierlan combined to go 19-23 on face-offs.  '
Japan completed a supremely dominant stretch of play in the men's championship, winning its fourth game in a row by a 23-3 scoreline over Denmark in Pool B.
After four contests, Japan has a combined scoreline of 70-6 with the best scoring offense and defense in San Diego. The team earned the sixth seed in the playoffs and will take on the 11th seed in the first round on Tuesday.
Nine players landed on the scoresheet and six had three or more points. Shinya Tateishi, Hiroki Kanaya and Koki Goto all had five or more points. 
Poland pulled away late from New Zealand for a hard-fought 11-7 win, its first in Pool D.
Christopher Crapanzano filled up the box score with four goals and one assist.
Jeremy Kincaid had three goals in defeat for New Zealand.
Israel submitted a statement 12-6 win over the previously undefeated Puerto Rico to improve to 3-0 in Pool C and claim a playoff spot as the pool winner.
Despite the loss, Puerto Rico's 3-1 record and strong goal differential means the team locked a playoff spot as well.
Nathaniel Solomon dominated offensively with five goals and two assists. Goalkeeper Andrew Morris turned in one of the best goalkeeping showings in San Diego with 15 saves on 21 shots faced, stymieing a top-five offense in the process.
Italy finished its four-game sweep of Pool E with a convincing 15-5 win over Scotland that claimed a playoff spot.
Christian Cuccinello and John Piatelli both erupted in the win, posting dueling three-goal, three-assist stat lines. Jeff Trainor added a hat trick as well.
The Philippines jumped on the Czech Republic for its first win in San Diego, a 10-4 scoreline behind an 8-1 first half.
JJ McKenna, John Dugenio and Antony Brown each scored twice in the win, and Dugenio was an impressive 12 of 15 on face-offs.
Germany finished its pool play campaign with its third consecutive win, a 16-4 takedown of Switzerland that clinched a playoff spot.
Germany has rebounded well after dropping a tight opening contest to Jamaica and finished with a 3-1 record, locking in a second-place finish in Pool D.
Lasse Volquardsen spearheaded the potent German attack with three goals and two assists. Wynton Bastian and Florian Warner added three or more points. Germany held Switzerland to just nine shots total.
Hong Kong, China, gutted out another win against Austria in Pool E, pulling away late for a 9-6 victory to improve to 2-1.
Liam Ferris stepped up for Hong Kong's offense with four goals, followed by two from Dash Tsai, who also chipped in with five ground balls.
After Scotland's loss to Italy, Hong Kong has sole possession of second place ahead of a clash with Mexico on Monday.
Wales turned in a team effort to defeat Uganda, 17-4, in Pool B, and improve to 2-1 to tie France for second place. The two teams will face off tomorrow with hopes of earning one of four playoff spots for second place teams outside Pool A.
Ben Stringer turned in an excellent performance with four goals and four assists.
John Mukaga scored twice for Uganda.